Current events calendar
An Afternoon Among the Oaks - Exploring the Ecology of Solano County's Oak Trees
Sunday, November 8, 2015 2-4 pm Flier
Free the trees - walk and work
Take a walk at Lagoon Valley park and do a little tree work. We are removing the old cattle cages and T posts that were installed to protect the 1994 acorn planting in the ravine east of the lake. Meetup at the end of Butcher Road at 4 pm for a hike over the hills to the work spot, return by 6 pm. Hike takes about 30 minutes each way. Work continues on an irregularly basis while the weather is pleasant, but usually is on a Monday, Wednesday, or Friday. Email phytosphere@phytosphere.com to confirm a day.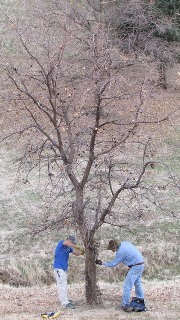 VTF also has other items on its "to do" list. In particular, maintenance is needed at a number of past planting sites, including adjusting or removing protective cages. We need folks to step forward and help organize what needs to be done. Email us if you would like to get a project going.
If you want to be notified when we have an event coming up, email us.